⇧ [VIDÉO] You might also like this partner content (after ad)
The cause of nearly 10 million deaths in 2020, almost one in six deaths according to the WHO, cancer is one of the main causes of death in the world. It is a public health burden. Recently, researchers sounded the alarm by revealing that in recent decades, more and more adults under the age of 50 are developing cancer. Researchers identify the risk factors and trends behind a growing incidence of early stage cancers worldwide, setting the stage for future research and prevention plans.
Cancer is a multifactorial disease that most often affects people over the age of 50. However, evidence indicates that the incidence of cancers of various organs (breast, colon, endometrium, esophagus, extrahepatic bile ducts, gallbladder, head and neck, kidneys, liver, bone marrow (multiple myeloma), pancreas, prostate, stomach and thyroid) has increased in adults under 50 in many parts of the world.
The increased use of screening programs has contributed to some extent to this phenomenon, although a real increase in the incidence of early forms of several types of cancer also seems to have emerged. Because of this growing burden of cancer in young adults, called " the early cancer epidemic », the National Cancer Institute of the United States has classified this phenomenon as a research priority.
Moreover, it was a study conducted by researchers at Brigham and Women's Hospital, a founding member of Mass General Brigham, which revealed this increasing incidence of early-onset cancers. This drastic increase beginning around 1990. In an effort to understand this " early cancer epidemic the scientists conducted extensive analyzes of data available in the literature and online, including information on early exposures that may have contributed to this trend. The results are published in the journal Nature Reviews Clinical Oncology.
A survey revealing a generational problem
To conduct their study, Shuji Ogino and lead author Tomotaka Ugai, colleagues in the Brigham's Department of Pathology, first analyzed global data describing the incidence of 14 different cancer types, which showed an increased incidence in adults before the age of 50 from 2000 to 2012.
Next, the team searched for available studies that looked at trends in possible risk factors, including early exposures in the general population. Finally, the team reviewed the literature describing the clinical and biological tumor characteristics of early cancers compared to late cancers diagnosed after 50 years.
Shuji Ogino explained in a press release: From our data, we observed what is called the birth cohort effect. This effect shows that each successive group of people born later (say, a decade later) has a higher risk of developing cancer later in life, likely due to risk factors they were exposed to in a young age. We have found that this risk increases with each generation. For example, people born in 1960 had a higher risk of cancer before they turned 50 than people born in 1950 and we expect this level of risk to continue to increase over generations. ".
Indeed, since the mid-20th century, substantial multigenerational changes in the exposome have occurred. It should be noted that the exposome is a concept corresponding to all of the exposures to environmental factors that a human organism undergoes from its conception to its end of life, passing through in utero development, completing the effect of the genome. In this study, key multigenerational changes include changes in diet, lifestyle, obesity, environment, and microbiome, all of which could interact with genomic and/or genetic susceptibilities.
Key risk factors identified
Thus, the authors hypothesized that factors such as diet and westernized lifestyle could contribute to " the early cancer epidemic ". As mentioned earlier, the team recognized that this increased incidence of certain types of cancer is, in part, due to early cancer detection programs. Although they could not accurately measure what proportion could be solely attributed to screening, they noted that the increased incidence of the majority of the 14 cancer types is unlikely solely due to this early detection. .
In fact, according to the authors, probable risk factors for early cancer include alcohol consumption, smoking, obesity, consumption of highly processed foods and sugary drinks, type 2 diabetes, sedentary life. All of these factors have increased dramatically since the 1950s, which researchers believe has accompanied microbiome alteration.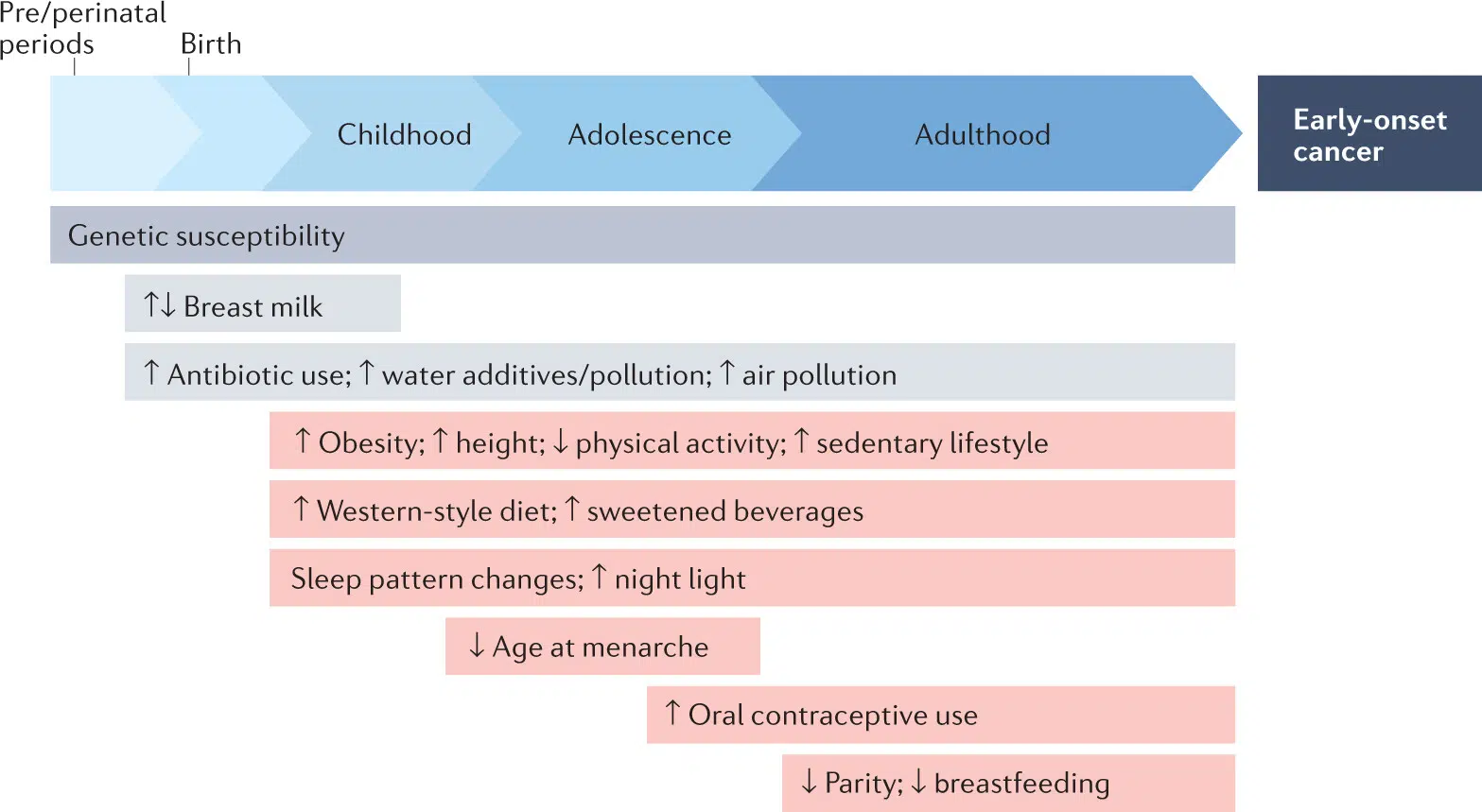 Tomotaka Ugai underlines and then explains: Of the 14 types of rising cancers we studied, eight were related to the digestive system. The food we eat feeds the microorganisms in our gut. Diet directly affects the composition of the microbiome and possibly these changes can influence disease risk and outcomes ".
Surprisingly, the researchers found that while adult sleep duration hasn't changed drastically over the decades, children sleep much less today than they did decades ago, identifying sleep deprivation as a risk factor for developing early cancer.
Nevertheless, one of the limitations of this study is the lack of data from low- and middle-income countries to identify trends in cancer incidence over decades. In the future, Ogino and Ugai hope to continue this research by collecting more data and collaborating with international research institutes to better monitor global trends. They also explained the importance of conducting longitudinal cohort studies with parental consent to include young children who can be followed for several decades.
Tomotaka Ugai concludes: Without such studies, it is difficult to identify what a person with cancer did decades ago or during childhood. […] I think this will give us more accurate information about cancer risk for generations to come. ".
Eventually, in-depth investigations of risk factors and molecular characteristics of tumors in several types of early cancers could also shed light on plausible common etiologies. Additionally, better knowledge of pathogenesis can inform strategies for primary prevention, early detection, and treatment.
Source: Nature Reviews Clinical Oncology